Camp Pendleton Experience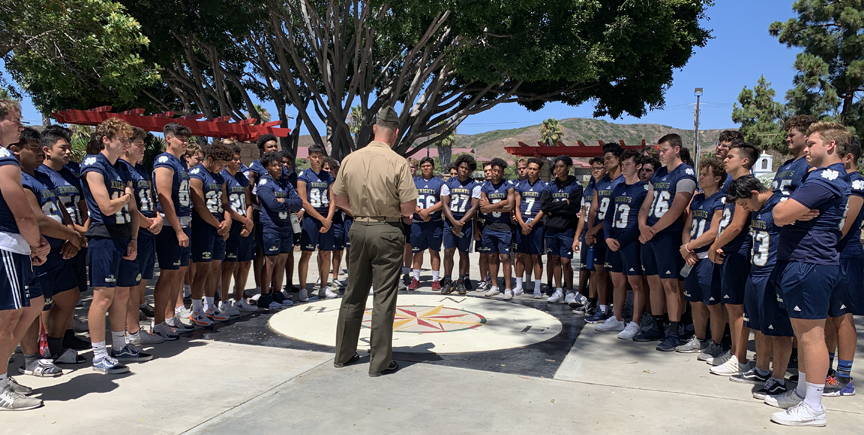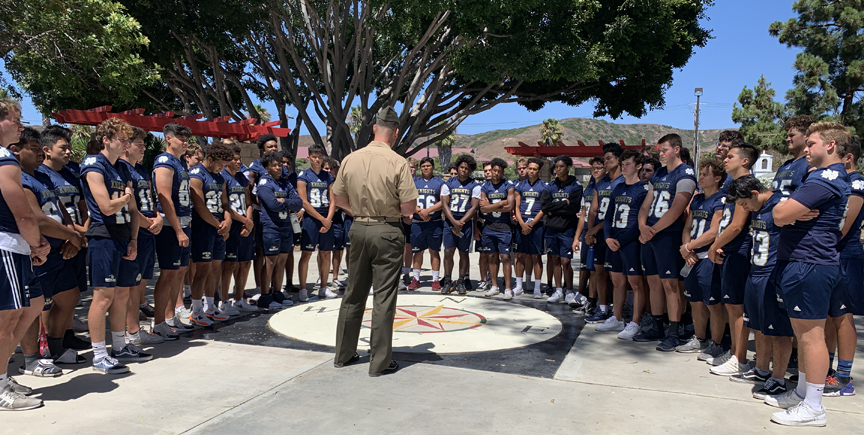 The Honor Bowl offers teams a chance to visit

Marine Corps Base Camp Pendleton, the Corps' largest West Coast expeditionary training facility, encompasses more than 125,000 acres of Southern California terrain.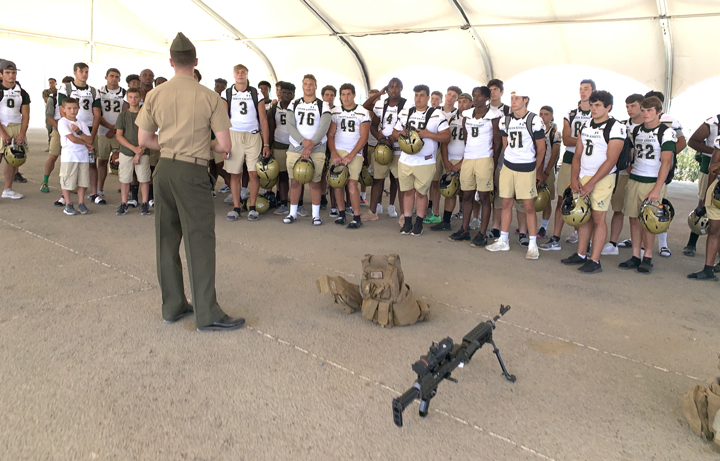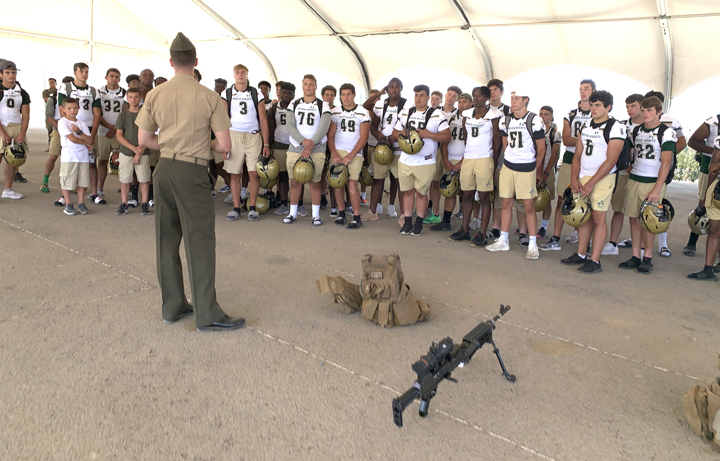 During the Southern California Honor Bowl, participating schools have the rare opportunity to have a behind the scenes visit inside the gates of Camp Pendleton. The Honor Group has a strong relationship with Command of the 5th and works closely to provide a time to listen to commanders, wounded veterans and gold star parents.
Camp Pendleton Experience has become a highlight for schools who come to The Honor Bowl. It isn't every day that students have a up front and intimate chance to listen to warriors talk about what they do on a daily basis to protect our freedoms. The Marines are The Few, The Proud and The Honor Group salute these brave men and women who find the value to support us in many of our activities.
In 2015, four schools opted to visit Camp Pendleton. Colony (Ontario), Alemany (Mission Hills), Del Oro (Loomis) and Notre Dame (Sherman Oaks) had the opporunity to hear from Gold Star Moms, Base Command and wounded veterans and have a stronger understanding of what sacrific really means.
 2016 had teams travel in from the East Coast and visit the Camp Pendelton Experience. St Joseph Regional (Montvale, NJ) and St Joseph Prep (Philadelphia, PA) had emotional moments when roaming the 5th Memorial Garden and then walk to the football field for hands on experiences.
2017 had teams travel LONG distances as well to visit Camp Pendleton. Boron, a small High Desert town in California jumped at the chance to be in The Honor Bowl and to also visit behind the gates. Head Coach Robert Kostopolous honors the local men and women on the Boron area who have served in the Armed Forces and was visibly affected when asked about his experience at the famed 5th Memorial Garden. Punahou traveled in from Honolulu, HI to partake in The Honor Bowl and also quickly signed up for The Camp Pendleton Experience. After their talks in the Garden the team gifted those present with a special song.
2018 had one team participate in the Camp Pendleton Experience. Eastside Catholic (Sammamish, WA) had athletes, coaches and support staff become more aware of the daily sacrifices that the US Marine Corps deal with to prepare and to protect our freedoms.
The week before had two teams, Notre Dame (Sherman Oaks) and Del Oro (Loomis) have the opporunity to visit Moffett Field in Mountain View, CA and listen to Command and Gold Stars with personal stories. Hands on time was a highlight of this first time Bay Area Honor Bowl – Hosted by Saint Francis High School.
2019 brought two more teams back for another time to Camp Pendleton. Head Coach Kevin Rooney of Notre Dame had his Knights participate in their third Honor Bowl with the addition of another educational event – something that sets The Honor Bowl apart from other 'big game' showcases! St Joseph Regional's Head Coach Augie Hoffman jumped again to provide the special time on base with is Green Knights.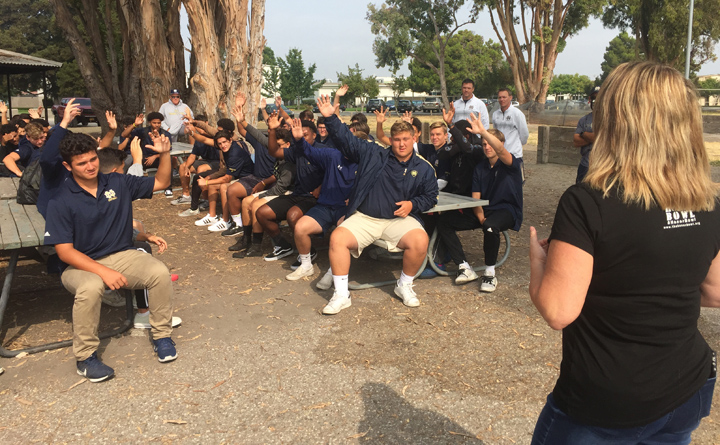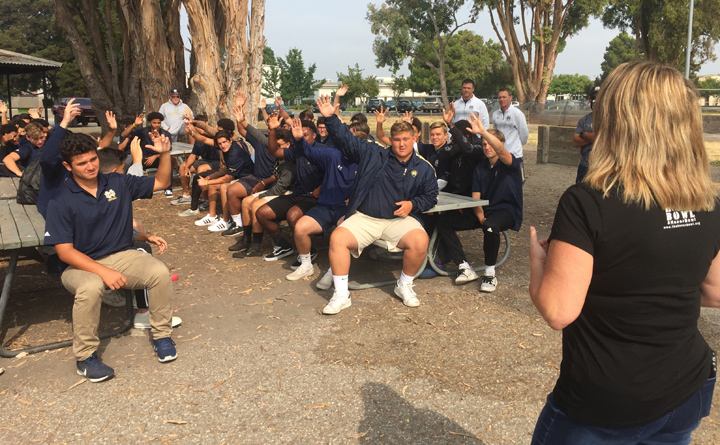 Moffett Field Experience
2018 Moffett Field. Gold Star Mom talks with Notre Dame (Sherman Oaks) during the 2018 Bay Area Honor Bowl.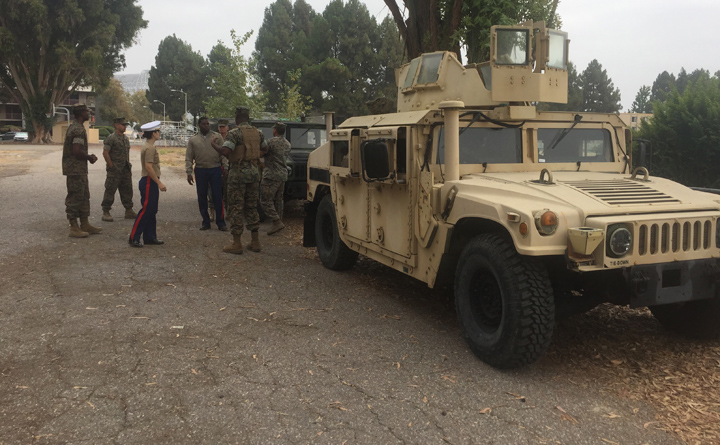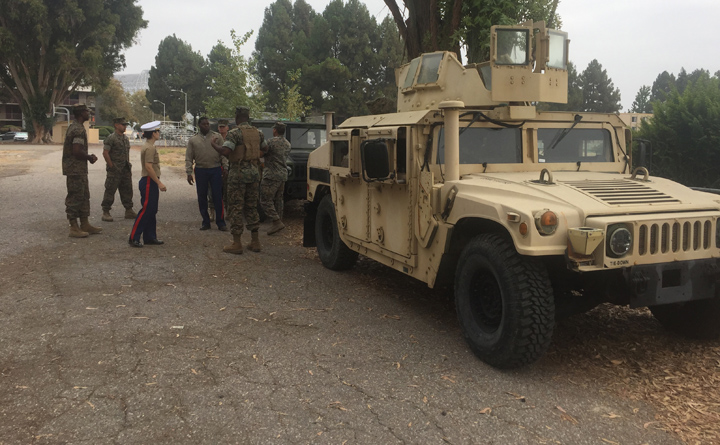 2018 Moffett: Marine Humvees
U.S. Marine Corps San Francisco Recruiting Station came down the Moffett Field and brought various static displays for the 2018 Honor Bowl. Thank you for your support!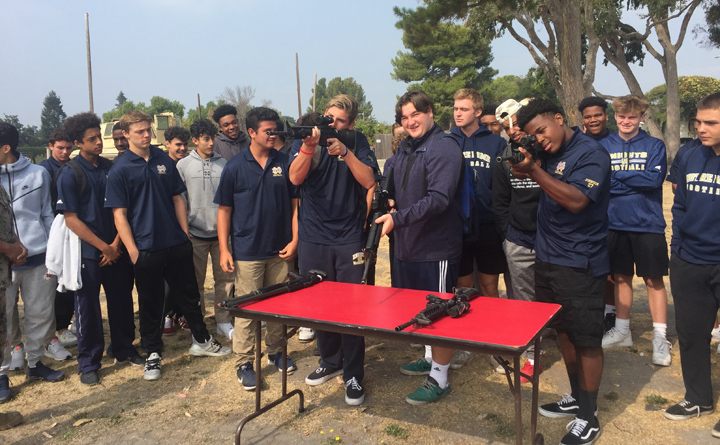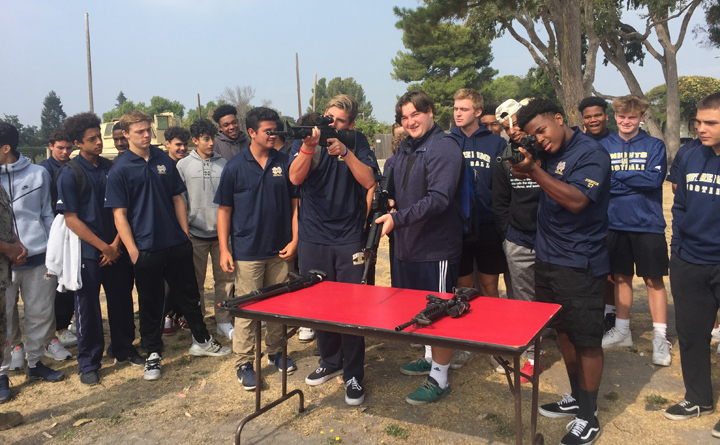 Notre Dame HS Hands-On
Notre Dame High School's Head Coach Kevin Rooney wanted his team to have the opportunity for a true educaitonal experience! The Knights travels up to the SF Bay Area to play sister school Saint Francis in Mountain View.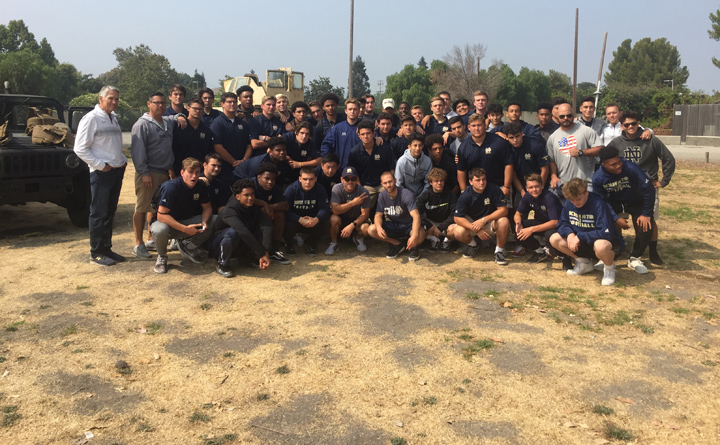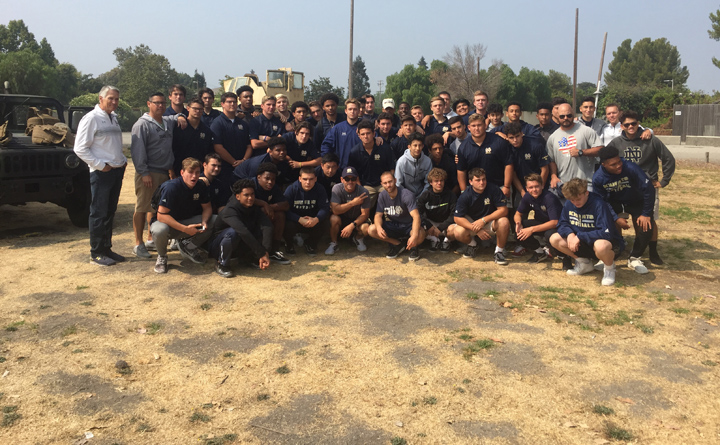 Moffett Field - Team Photo
A team photo of the 2018 Notre Dame High School Knights (Sherman Oaks, CA) at Moffett Field in Mountain View, CA.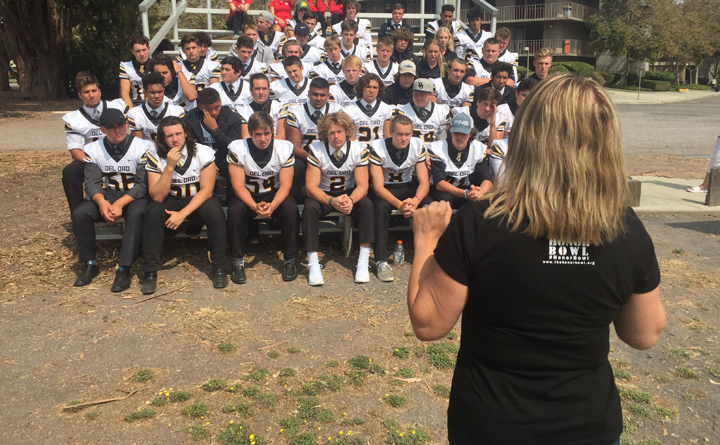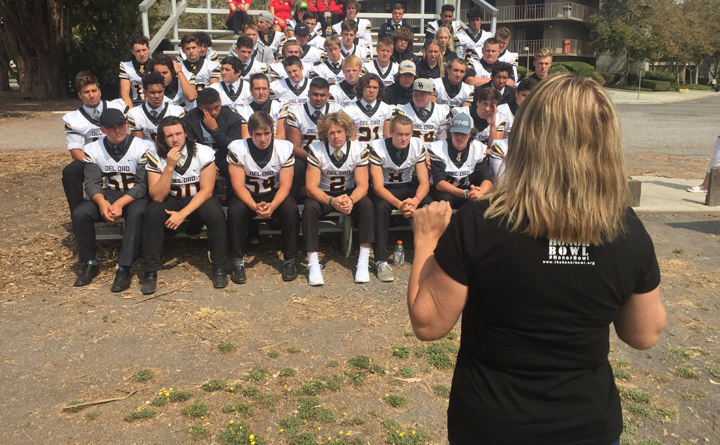 2018 Moffett Field - Del Oro
Del Oro wanted to be part of the Moffett Field Expeerience. Here is Gold Star Mom Patty Schumacher having a teaching moment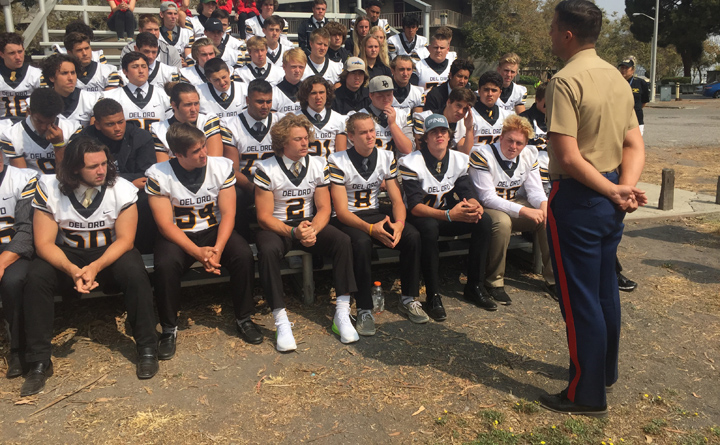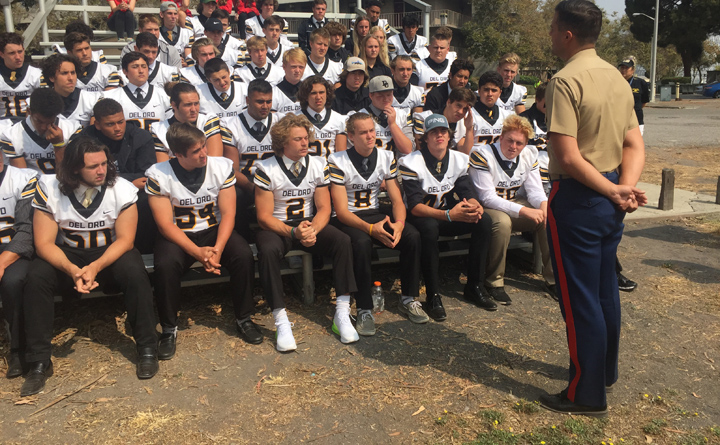 Moffett Field with Marine Officer
Del Oro is addressed my an Officer of the SF Bay Area Recruiting Station at the 2018 Moffett Field Experience.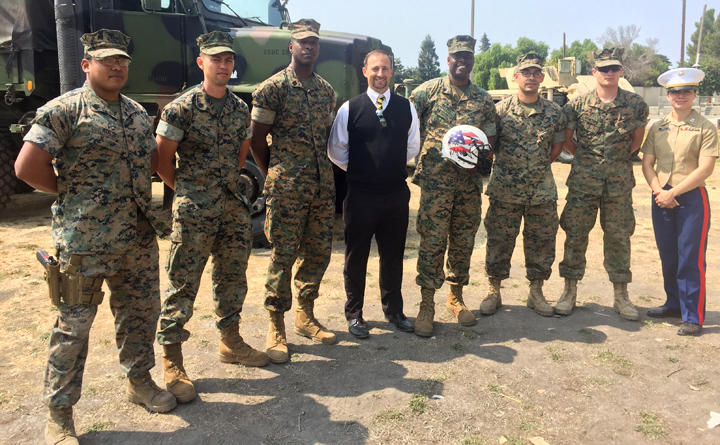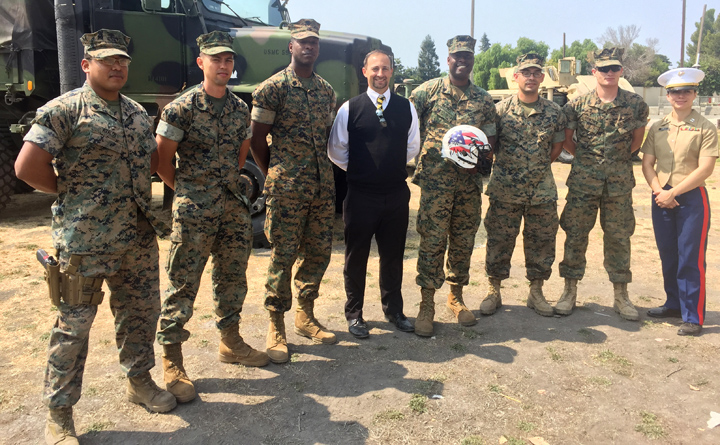 2018 Honor Bowl: Head Coach Jeff Walters
Head Coach Jeff Walters, Del Oro High School Alumni with Marines from the SF Bay Area Rrcruiting Station at the 2018 Moffett Field Experience in Mountain View, CA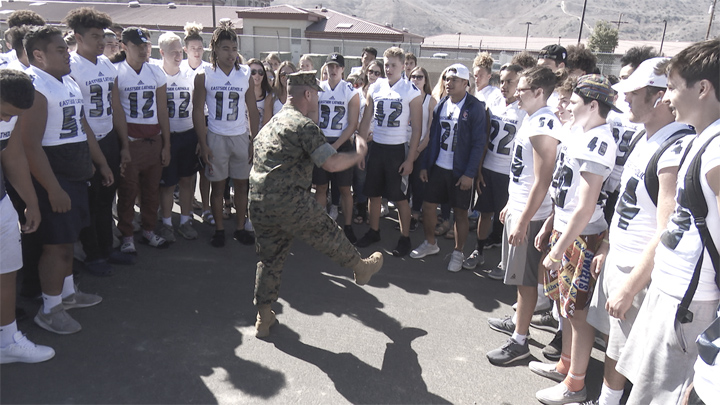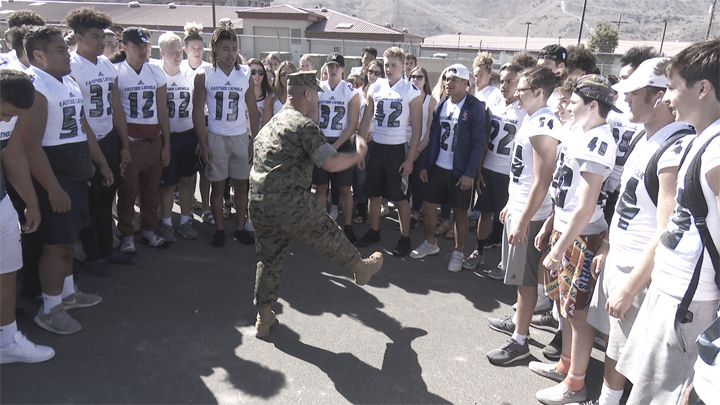 Circle Up with Drill Instructor
2018 Camp Pendleton Experience had Eastide Catholic travel in from Washington State. Players had a moment of reality as a Marine addressed the team when they arrived on base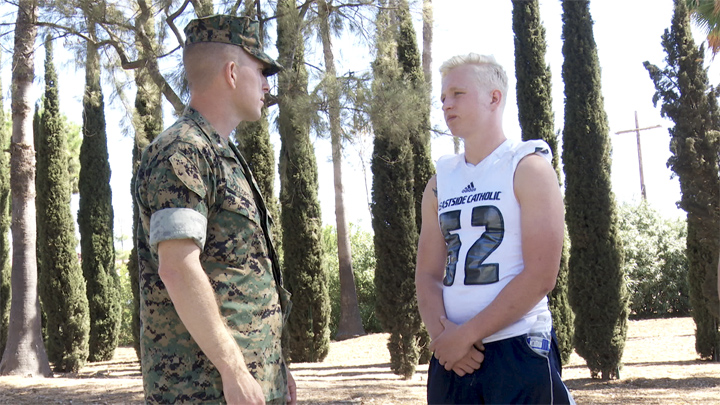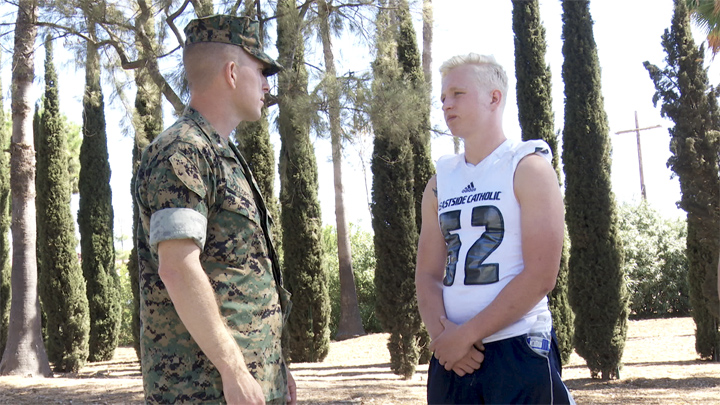 Questions Answered
The Honor Bowl is 'more than just a football game!' and this is a testiment for the Showcase. A player from Eastside Catholic talks to 5th Command about his desire to enter into the U.S. Marine Corps once he graduates from College. He took this time to state his desire at the Camp Pendleton Experience.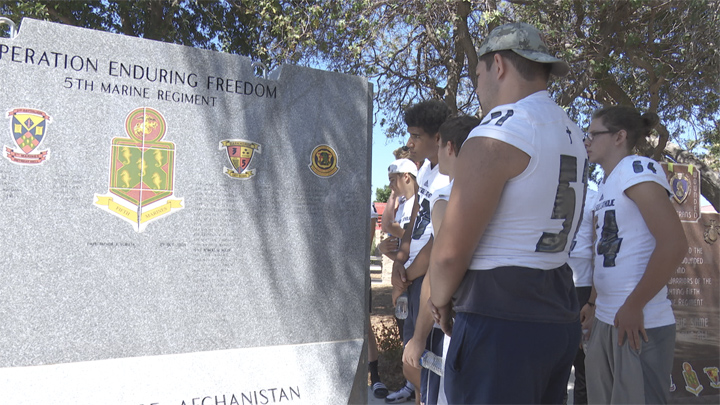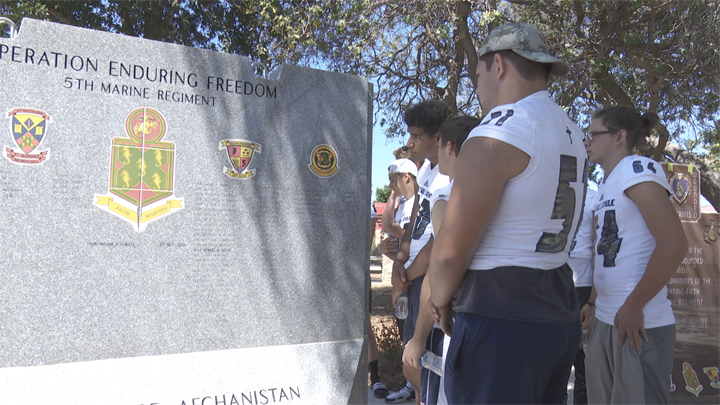 Time to Honor!
After talks in the Memorial Garden, players had the time to walk around and read names of many who were close to their ages.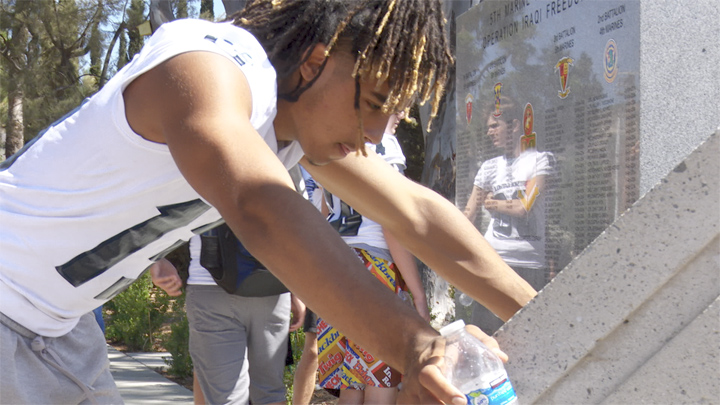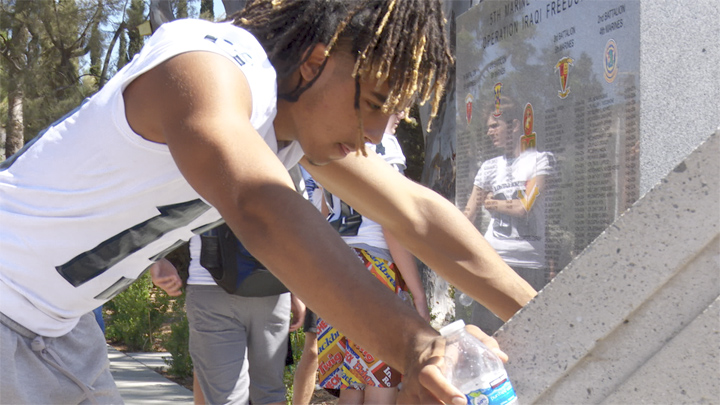 Time for Reflection
An Eastside Catholic player is engulfed with the countless names of Marines who gave the ultimate sacrifice for our freedoms.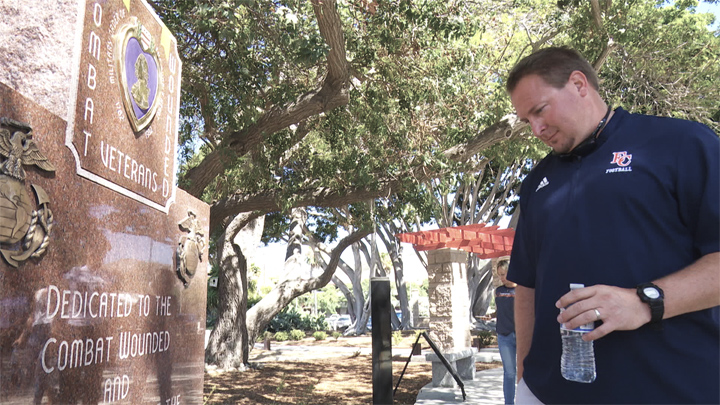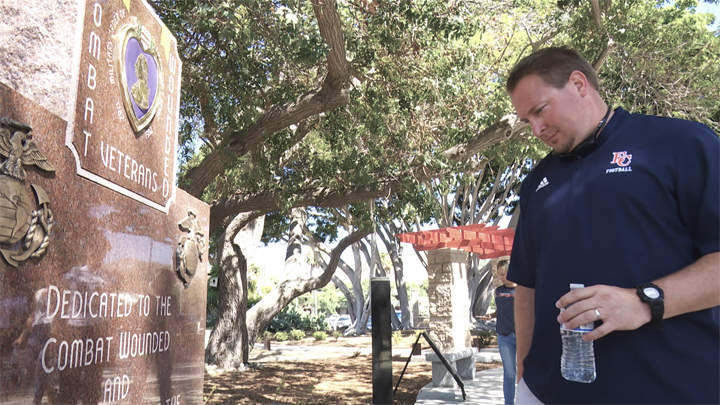 Coach T
Coach T of Eastside Catholic had two times to bring his team to The Honor Bowl and both times chose to participate in the Camp Pendleton Experience. He understood the powereful moment behind the gates would be life changing for his Crusaders.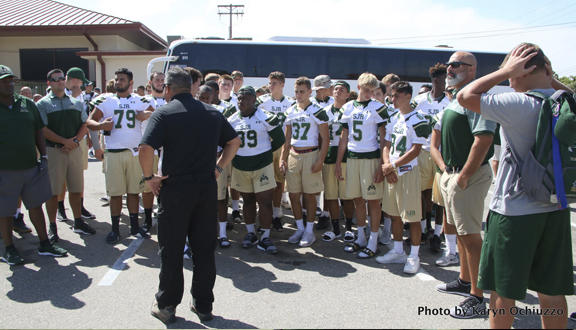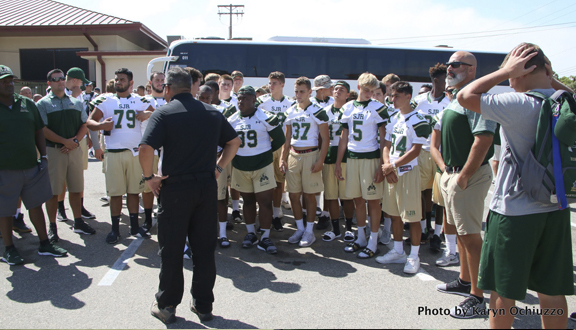 Initial Meetup
Teams circle up to listen to what will be occuring during their special visit to Camp Pendleton.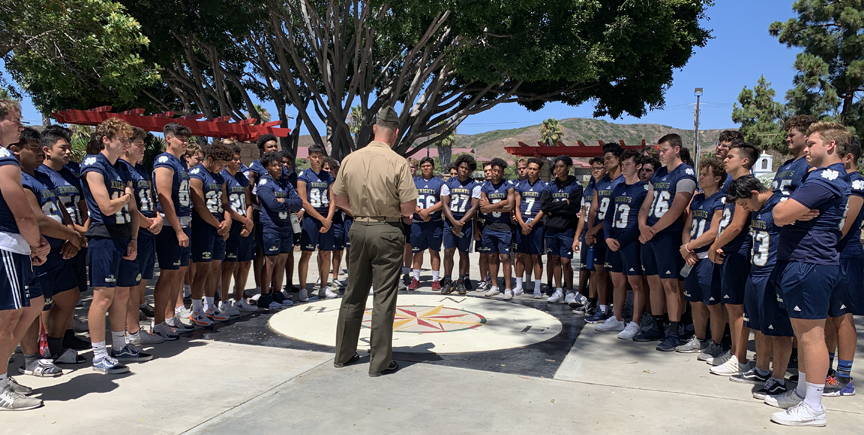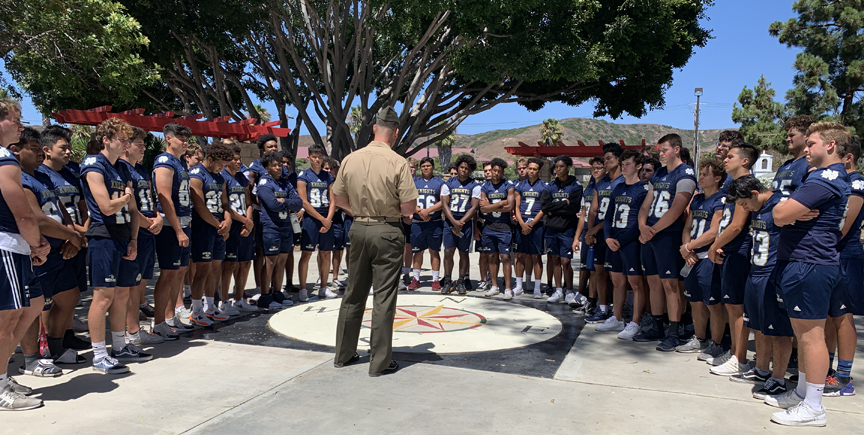 5th Memorial Garden
Teams walked from the buses to the famed 5th Memorial Garden. Monuments have been produced to honor the men and women that have given the ultimate sacrifice in WWII, Vietnam, OEF/OIF deployments.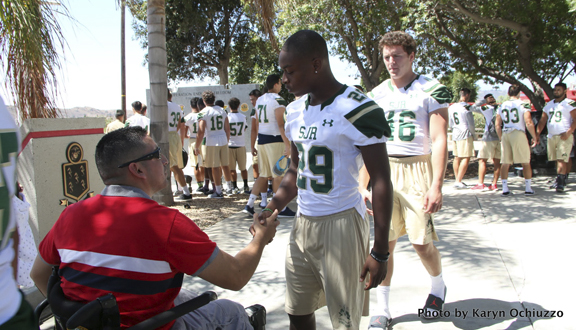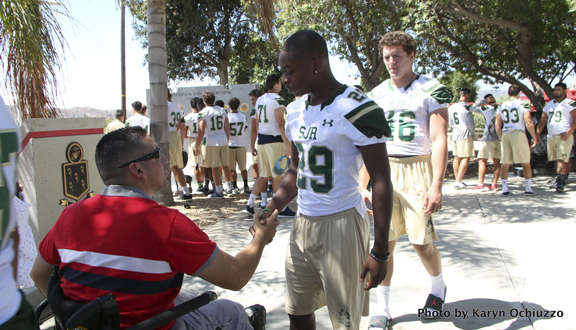 Meet and Greet
Players have the chance to meet and greet wounded veterans at the 5th Memorial Garden. Ironically, these proud Marines thank the athletes for the priviledge to meet up.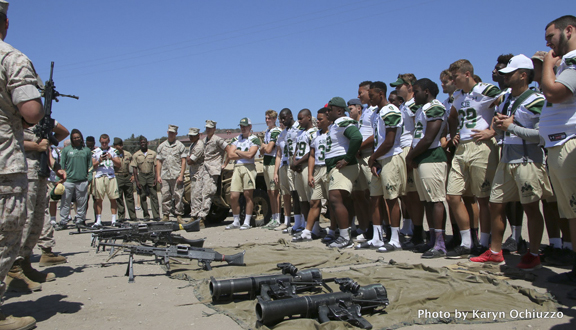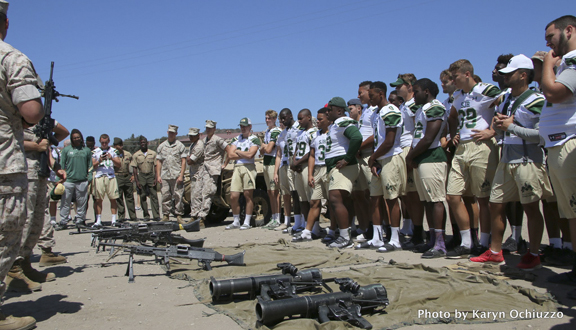 Hands On
After the Memorial Garden, players walk down to the field where weapons are displayed. Marines are present to answer any questions and give each the opporunity to have a hands on time as well.
I Want More Information to Jumpstart My Career!
The Honor Group is a 501 (c) 3 nonprofit does much more than just educate athletes, coaches and coaches about the needs of our military men and women who volunteer to protect our freedom. Countless veterans have been personally helped through the generosities of funds raised during The Honor Bowl as well as through various donations made. Sponsors who have partnered with The Honor Group recognize the impact that occurs through events that are planned and produced and gladly add value to the needs to educate, empower and equip.