Monte Vista
Game Two
September 11, 2020  7:30 pm
Monte Vista
3131 Stone Valley Rd
Danville, CA 94526
Head Coach: Matt Russi
Mascot: Mustangs
2019: 8-4
CA: #61
Back in the day there was no freeway in the Valley, cowboys and valley pioneers were active in the community and students rode horses to school.  With the population growth after WWII the 680 freeway was extended from Walnut Creek to Danville in 1964 and in 1965 SRVUSD was approved by voters and Monte Vista was founded.  The era of Rock and Roll was part of Monte Vista.  Teacher Chet Farrow organized more than 100 concerts at school featuring some of Rock's biggest names including Journey, Boz Scaggs, Greg Kihn and Huey Lewis & The News.  The musicians came to MV to give students a chance for hands-on education running the sound and lighting systems. Today one of those students is an announcer for the A's.      
Dr. David Ahern
Principal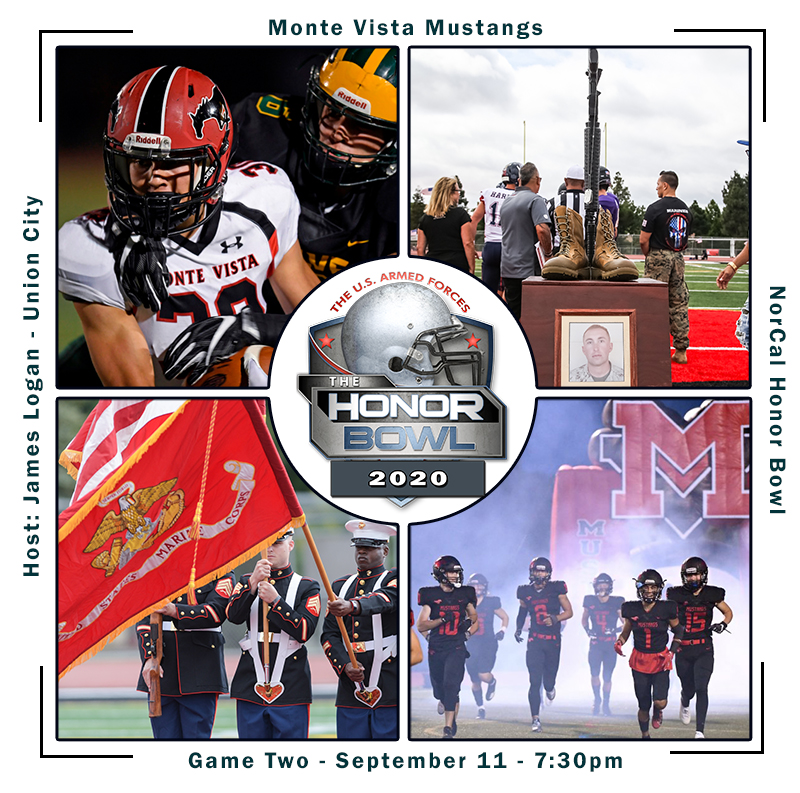 Visitors Monte Vista has been a team that continues to rebuild and compete in a fiercely competitive league with National power house De La Salle. The Mustangs Head Coach Matt Russi is excited to have his Mustangs be part of the 2020 Honor Bowl for the first time. Monte Vista had a 8-4 record in 2019 and were tied for second in the East Bay Mountain League and a CIF NCS DI semifinalist. The Mustangs look to RB Gavin Cribb to tack on yards and scores along with MLB Josh Zeising to shore up on the defensive side of the ball.
#MissionvsDiabloValley – We love games like this one!